Joined

Oct 5, 2016
Messages

782
Points

158
Bangladesh started out on 16th december 1971 as one of the poorest nations on earth,with a poverty rate of 80%,now it had reached 33th largest economy ( by PPP ) and 44th ( by GNP ) and poverty rate reduced to 15%.It is the 7th most populous country,and the most densely populated country in the world.Its capital,Dhaka,is known as City of Mosques and Venice of the East and will soon boast the 2nd tallest building in the world...
Bangladesh Armed Forces consists of Bangladesh Army ( BA ),Bangladesh Air Force ( BAF ) and Bangladesh Navy ( BN ).
The Bangladesh Army is the largest of the tri-services and is the largest UN troop donator in the world.Formed during the liberation war in 1971,this force,despite couping more than once,struggled to bring this country to what it is today - a sovereign fully fledging economy with a self reliant military to safeguard the nation.With an active personnel number of 350,000 + and the 6th largest reserve army ( around 1.5 million-2 million reserve personnel ),Bangladesh Army set on an ambitious mordernization plan to be fully deterrent against any enemy and reach the top 25 strongest nations on Earth under the Forces Goal 2030.
East Bengal Regiment - The largest and most well equipped formation in the army.
1st Para-Commando Battalion - The most trained elite soldiers in the army.
Bangladesh Air Force may be the most neglected part of the tri-services and the smallest,but under the ambitious mordernization plan "Forces Goal 2030",it will become very strong with induction of 10 squadron ( 160-240 ) units of 4++ Generation aircrafts.Formed during the Independence War,as the Kilo Flight,this force now contains Mikoyan Gurevich MiG-29s and Chengdu F-7BG/BG1s ( Chinese version of MiG-21 ) as war aircrafts.
2 MiG-29 SEs,1 F-7MB and 1 F-7BG patrolling over sovereign skies of Bengal.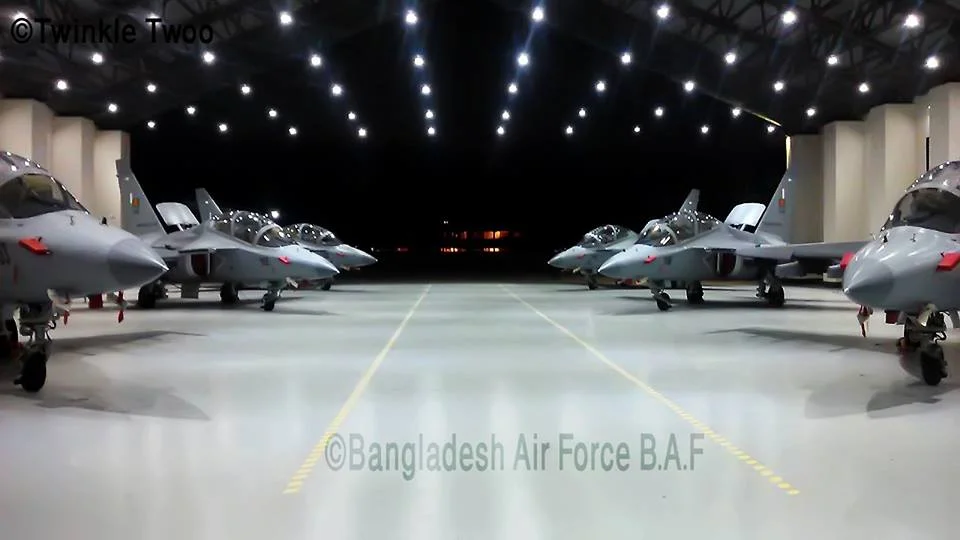 6 Yakolev Yak-130 AJT/Light Attack Aircraft of BAF in the hanger.
Bangladesh Navy started from a riverine navy of small gunboats and wooden boats during 1971 to a full fledged navy containing FFGs,Submarines and Aircrafts within less than 50 years of independence.This force boasts being in the 25th largest navies in the world,and under the ambitious mordernization plan "Forces Goal 2030" would try exceeding the 15th place.Also,the naval air wing would get 3 squadrons ( 48-72 units ) of fixed wing jet aircrafts and possibly helicopter carrier(s) as well as strengthening the submarine force,which already consists of 2 Chinese Ming Class submarines, by 2-4 new Kilo/Song class submarines and getting 4 VLS equipped frigates,and 6 more Stealth Heavy Corvettes/Light Frigates ( Shadhinota Class ) built locally.Also,Bangladesh Navy has been offered BrahMos ( strongest cruise missile currently ) by India and Russia,Bal E/Klub M systems by Russia,C-802A and CX-01 systems by China as shore based coastal defence system.Bangladesh navy also has SWADS ( Special Warfare Diving and Salvage ) SEAL/UDT,one of the best in the world,along with ROK Navy SEAL/UDTs and US Navy SEALs.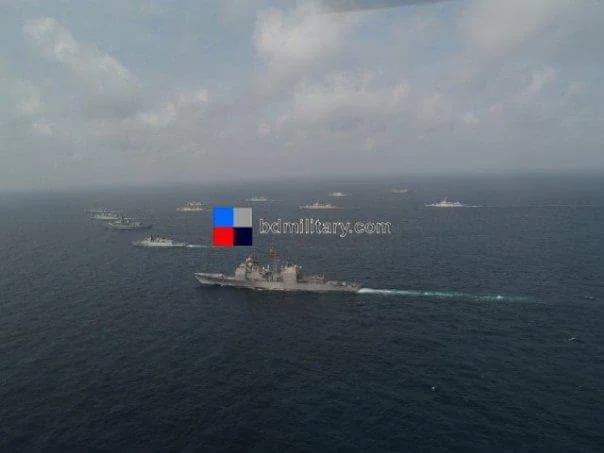 Formations of Bangladesh Navy,protecting the sovereign maritime territory of BanglaDesh.
SWADs underwater demolition training,around the pristine island of St.Martin,which boasts beautiful beaches and coral reefs.