Joined

Feb 20, 2020
Messages

6,142
Points

309
A soldier with a pack Reindeer, on slippery ice, near the tiny village of Nautsi, in northern Lapland, Finland, on October 26, 1941.
Flamethrower in action in the woods near the village of Niinisalo, on July 1, 1942
Pilots in flight above Jämijärvi, on July 17, 1942
Propeller-driven snowmobile near Haapasaari, Finland. The swastika was used as the official national marking of the Finnish Air Force and Tank Corps between 1918 and 1945.
Looking out toward approaching aircraft with binoculars and listening with a huge acoustic locator.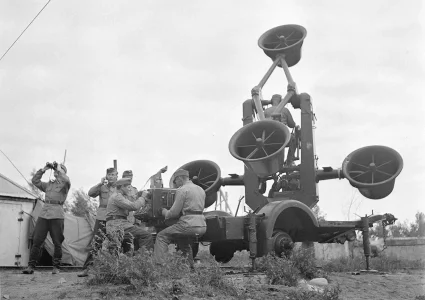 62-year-old Finnish-American volunteer soldier Hyvönen going to the front, in Mikkeli, Finland, on September 4, 1941.
Finnish tank crew, July 8, 1941.
Hitler's visit to Finland. Adolf Hitler, leader of Nazi Germany, made a brief visit to Finland in June of 1942.
Anti-aircraft fire over Suomenlinna, Helsinki.
Finnish anti-aircraft crew in action in Helsinki.